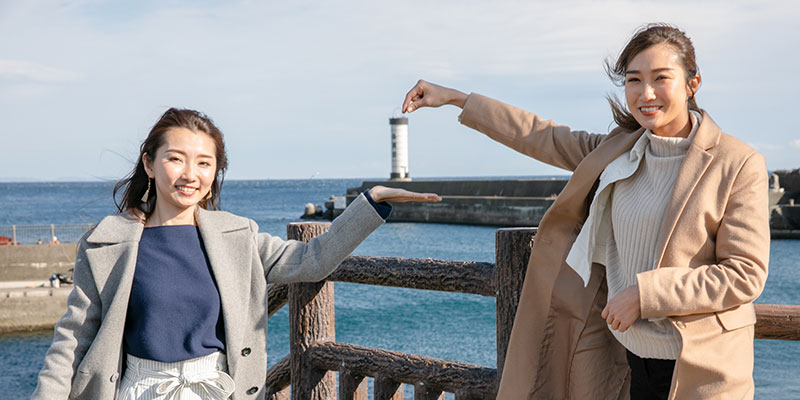 Enjoy the food, sights, and people.
Entertainment at Odawara's harbor!
Fun at Hayakawa Fishing Harbor
Can't wait for summer to get here?
In that case, the port city of Odawara, overlooking the Sagami Bay, has just what you need!
With plenty of places to have fun, you'll be able to fully enjoy Odawara Fishing Harbor even prior to summer's arrival!

 Catch the sea breeze while satisfying your appetite and spirits at Odawara's harbor!
Here we'll introduce a spot where you can enjoy your fill of the catch at Odawara Harbor.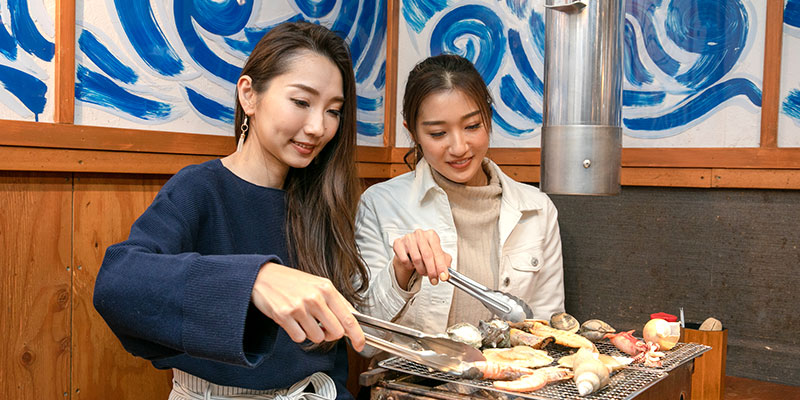 Before doing anything else you'll first want to get your fill of the area's seafood.
At Aburiya, you'll be able to enjoy a fun and lively fisherman's BBQ with freshly caught seafood.
Aburiya is a fisherman's style all you can eat BBQ specialty restaurant directly operated by a fish dealer. Here, over 50 types of seafood can be enjoyed, including mollusks, scallops, and dried seafood.
Located in the Odawara Hayakawa Fishing Village, where gourmet seafood caught in Odawara Fishing Harbor can be found.
 
One of Aburiya's highlights is the menu that changes daily depending on what they have in stock.
Special items will also appear once every 30 minutes as part of the Manly Menu!

 In addition to enjoying seafood at a reasonable price,
the fun of dining around the shichirin grill with friends and family is sure to be an experience you'll never forget!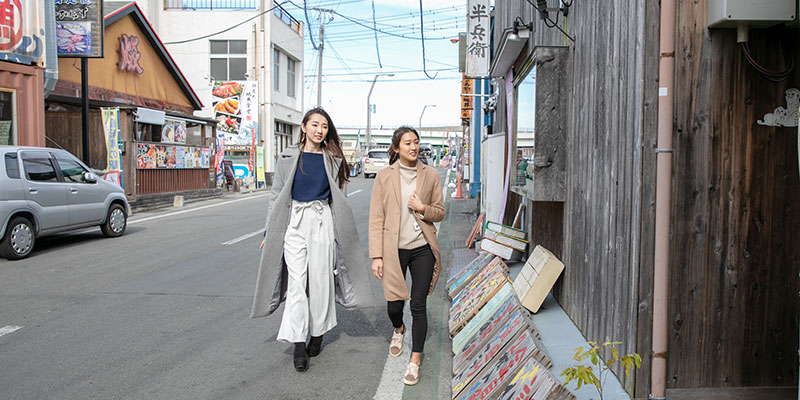 With your stomach full, next up is a leisurely stroll around the fishing harbor.
Wander your way down Odawara's Fish Street
The road that runs around the fishing harbor was renamed "Odawara Fish Street" in 2018 at the request of the residents, and is currently a bustling area.
There are numerous seafood restaurants in the surrounding area.

 Wander down this street that boasts quintessential harbor scenery while searching for a shop that suits your tastes!
Walk a bit further, and you'll find a spot with a view of the entire Sagami Bay.
A paper lantern style lighthouse typical of Odawara serves as a landmark.
The sight of Sagami Bay extending out before your eyes is enough to uplift your spirits.
A wide selection of souvenirs and endless entertainment options!
Enjoy the Odawara Fishing Harbor to the fullest at the Odawara Fish Center!
No list would be complete without mentioning this location!
Located near Odawara Fishing Harbor, the Odawara Fish Center offers marketplace entertainment including shopping, sights, eats, and amusement.
Here you can fully experience what Odawara Fishing Harbor has to offer. You'll find fresh seafood harvested from Odawara Fishing Harbor for sale at the fish market, restaurants offering a chance to savor the taste of freshly caught fish, and souvenirs ranging from smoked fish products to ingredients harvested from Odawara Harbor.
 
You won't have a problem finding the right souvenir among the offerings available at the Odawara Fish Center. If anything, you'll have trouble choosing between Odawara's renowned kamaboko, smoked or dried fish, and the produce on display at the market. 

The fun doesn't end there. The Center also offers a morning market dining hall, and bean to bar chocolate.
Enjoy the harbor to your heart's content at the Odawara Fish Center!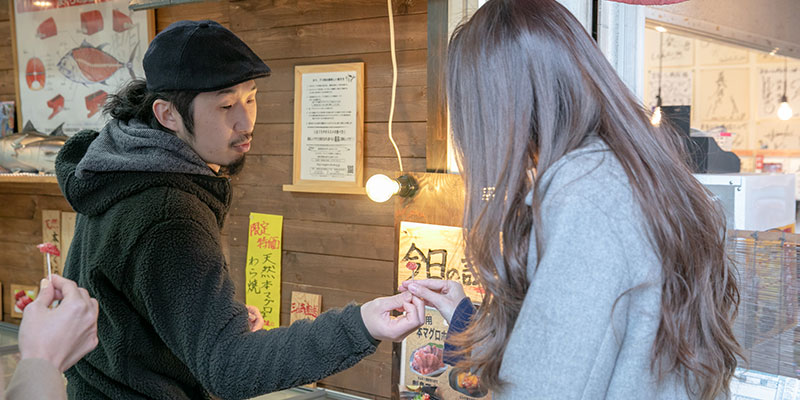 | | |
| --- | --- |
| Access | About 5 minutes on foot from Hayakawa Station on the JR Tōkaidō Main Line |
| Point | Parking lots can be crowded during the day on weekends, so we ask that you use public transportation. |